(CNN) Calling law enforcement accounts "absurd," a Michigan attorney sued police Tuesday in the death of 7-year-old girl killed during a raid in Detroit.



Attorney Geoffrey Fieger said members of the Detroit Police Special Response Team acted out of line when they conducted a raid on the family home of Aiyana Jones, who was severely burned and then killed by an officer's bullet. She died Sunday.

"This type of activity by a police force is unacceptable in America," Fieger said at a news conference in his office. "What is equally unacceptable is the cover-up that has occurred."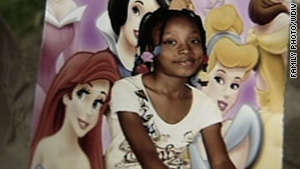 Aiyana Jones was shot and killed by police executing a search warrant, according to officials.

Fieger filed both state and federal lawsuits alleging gross negligence, a violation of civil rights and a conspiracy to cover up the violation of civil rights.

Detroit Assistant Police Chief Ralph Godbee has said that preliminary information indicated that officers approached the house with a search warrant for the girl's uncle in connection with the shooting of a high school student Friday.

Godbee said the officer's gun discharged accidentally inside the home after an altercation and physical contact with the girl's grandmother, Mertilla Jones.

Jones denied such an altercation Tuesday. Fieger said he plans to file another lawsuit for false arrest and accused the police of covering up their own mistakes by blaming the family.

Fieger said videotape of the incident shows that the shooting was not accidental. In an interview Monday, he told CNN affiliate WDIV that a crew was filming the raid for the A&E network's show, "The First 48." The program documents police investigations in the first 48 hours after a homicide.

Tuesday, Fieger recounted the events shown on the video that he said led to the girl's death. At times, he had to pause, his voice drowned out by sobbing family members.

Fieger said officers tossed a smoke bomb -- described by police as a "flash bang device" to distract occupants -- into the house, severely burning Aiyana, who was on the couch in the front room with her grandmother. She was then struck in the neck by a bullet fired from outside the house, he said.
Godbee has said he doesn't know how Fieger saw the video, according to WDIV.

"If Mr. Fieger has access to anything that would be evidence in this case, he should, as an officer of the court, get it immediately to the Michigan State Police, which will be investigating," he said in a statement.
Fieger said the police and the city owe apologies to the family, especially to Mertilla Jones for trying to blame her for her granddaughter's death. He said officers need to be held to account just as anyone else would.

"The people of the city of Detroit have got to believe the police will protect them, and not kill them," Fieger said.

"This is an opportunity to come together, not to tear us apart," he said. "Apologize now and we can start the road to healing."

WeN2K Commentary
The Detroit police allowed A&E film crews to come along for the ride when serious police work was supposed to be taking place. This raises a few questions. 1. Why are film crews for an entertainment network (Arts & Entertainment) allowed to ride along on serious police cases (one might ask this for shows like "COPS" as well"). 2. Are these police agencies and/or officers paid any compensation by the networks/entertainment programs? 3. Does the fact that these officers are being filmed for national television affect their performance or responses?

If the answer is "yes" to either of the latter questions - then this family has a strong case against A&E as well. Geoffrey Fieger is a very sharp attorney. Our guess is that A&E WILL be included in a future, civil lawsuit. Why? Because that's where the REAL money is. The family (now/currently CLEARLY focused on grieving over the loss of their angel...leaving legal matters to Fieger - who probably approached them) will probably be compensated by the city of Detroit to the tune of two to five million dollars...whereas a settlement with A&E could reach well into the eight figures.

A reader on a post made on a news network website stated that this little girl could have one day cured cancer or been the president of the US. Regardless of what she COULD have done or become (which could have been much less or even far greater)...her life was stolen from her and her family FAR, FAR too soon. Any and EVERYONE who had a hand in her death should pay in one way or the other...from the Detroit police department to an entertainment network...whose presence may have affected the actions of trained officers who may have otherwise done the right thing.

No one could ever tack a value to the life of this young girl/child...a priceless thing. But if it were YOUR daughter...wouldn't you want justice from ALL quarters?


Following is a video report of a police officer killing in the same area two weeks Ago...
Did this (below) incident encourage an over-zealous response in the above case?
Does A&E Have Any Culpability In This Case?
See Original Story Posted Here on WeN2K
WeN2K Video News
631 Views!
Respond/Comment